The sky is as beautiful today as it was in 2001. Back then, after seeing those horrible events unfold, I remember going outside and feeling like the sky would turn black any minute. I watched live coverage and paced. At some point that morning, I'd called my husband at work. Finally, I grabbed my four-year-old daughter and raced to the elementary school where my three sons were in class. Everything there was eerily quiet, save the sounds of classroom instruction, the innocence of which sliced into my heart. My friend, who was the school principal then, looked me in the eye and said, "Are you here to pick up the boys?"
I wanted to. I wanted to hug them and take them back to our little country house to escape the world that was falling to pieces. But, no. I couldn't do that. My precious boys were in their classrooms with their friends and their teachers who loved them and who were, unlike me, remaining calm and authoritative. I looked at my friend and said, "May I just sit here for a while?"  She nodded and briskly turned away from me. We didn't hug that day. I think a hug would have shattered us into a million pieces. Her face was the most determined I'd ever seen it and I realized in that moment that the worry for my children was, for her, multiplied into an entire student body.
School was finally dismissed and we went home where the kids went upstairs to play, seemingly oblivious to the chaos. (Never, before or since, have I been more grateful for video games.) I glued myself to the TV and watched the horrifying replay over and over and over. I couldn't stop. My husband and I phoned back and forth. I called my parents and my priest. I got my bible and searched for answers and kept waiting for the sky to turn black.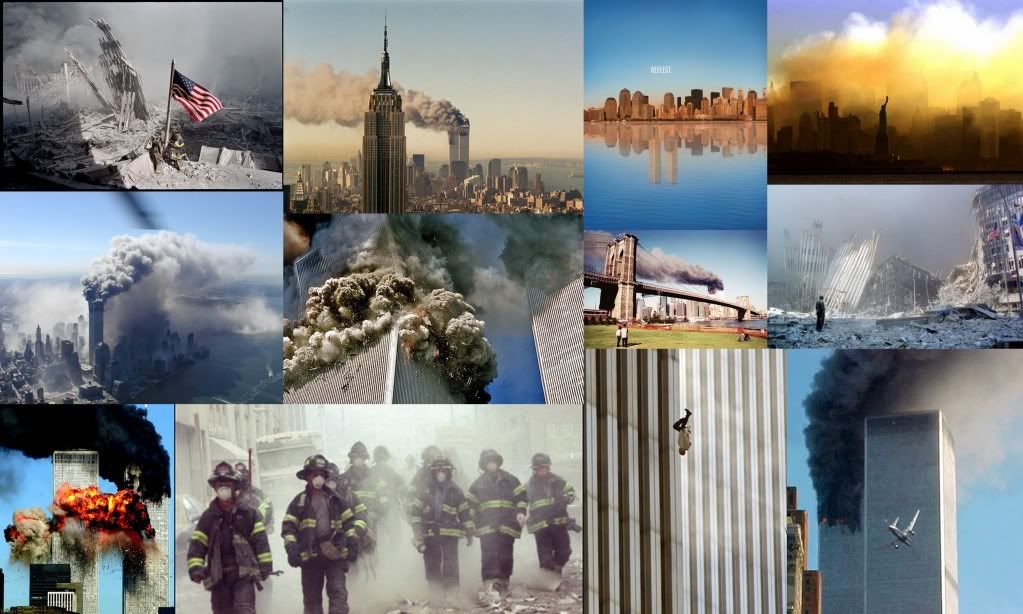 But the sky didn't turn black. The skies over NYC and DC and Pennsylvania finally cleared. Men and women with spirits much stronger than mine dug through the rubble, recovered loved ones, and cleaned up the mess. We cried and we prayed and we wondered what would happen but we gathered to mourn our fallen and protect each other. We survived that horrible day and we vowed to flourish. There were no Democrats or Republicans that day; no conservatives and liberals. We were ONE that day and in the weeks that followed.
Today, we stand on the precipice of a war with Syria. Our nation is woefully divided in politics and religion. Bigotry against Muslim-Americans and the LGBT community is openly practiced and even touted as 'patriotic' and 'Christian'. As we gather today to honor and reflect on the nearly 3,000 victims, I also remember the subsequent deaths in Iraq and Afghanistan which were spurred by this one horrible day in 2001. It would appear that 9/11 taught us nothing as a nation. What has to change? When will we see that violence begets violence? When we respond with hatred, that spirit is borne in our hearts and flourishes. Is it even possible to fathom a nation where every citizen chooses love over conflict? Stop and think about that: EVERY American choosing peace with no other thought than, "God will take care of the rest." Seems weak to some of you, I know. But is it? The bible tells us,
"Peace I leave with you; my peace I give to you. Not as the world gives do I give to you. Let not your hearts be troubled, neither let them be afraid." – John 14:27
"And let the peace of Christ rule in your hearts, to which indeed you were called in one body. And be thankful."- Colossians 3:15
"For to set the mind on the flesh is death, but to set the mind on the Spirit is life and peace." – Romans 8:6
"Now may the Lord of peace himself give you peace at all times in every way. The Lord be with you all." – II Thessalonians 3:16
My heart hurt on 9/11, too. My blood boiled. Revenge consumed me, too. But, now, twelve years nigh, my heart is tired of conflict. I'm tired of violence. I'm tired of vengeance. I believe that peace is attainable, but it takes all of us to truly acquire it; one at a time. I miss that feeling we had back in 2001 when every American looked into one another's eyes and said, "We're together in this. We are one."

I pray we never forget the events of September 11, 2001, and that we continue to strive to be the very best nation that we can be, TOGETHER.